Become A Supporter
There are many ways to become a supporter. Annual sponsorships, individual donations, volunteering… There are many roles to fill and contributions in any form from our community go a long way in helping us fulfill our mission.
Annual Clinic Sponsorship 
Our annual clinic sponsorships are a great way to show your commitment to the health of our community. Sponsorships by an individual or on behalf of your business are available in four tiers. Each tier is matched with increasing levels of recognition online and at our Annual Luau for Health.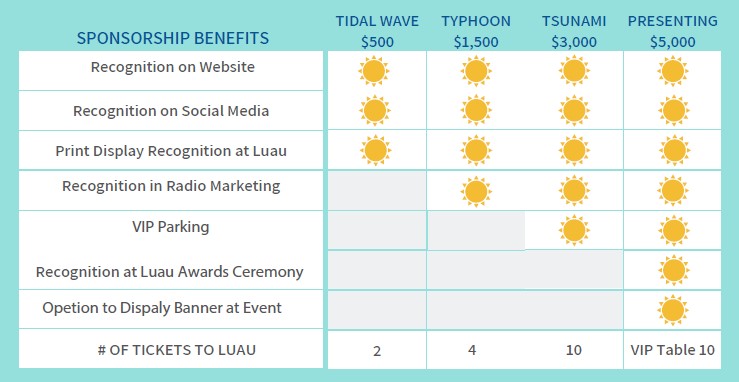 Medical Providers
Do you want to offer your services to help those in your community? Good Health Clinic works with private doctors and mid-level providers, hospitals and medical groups.  We offer malpractice insurance and you can define how and what you'd like to give. Volunteer providers may work in the clinic or out of their own offices.
Event Support or Hosting
Good Health Clinic hosts an annual fundraiser and often participates in several outreach booths.  We can always use help planning, working and coordinating. Have your own idea for a new fundraiser, or have an existing event which needs a worthy beneficiary?  Good Health Clinic is a great partner and can provide varying forms of support!
Patient Ambassadors
Help spread the word!  At Good Health Clinic, we want all eligible community members to have access to the health care that allows for a healthier, happier, and more fulfilling life.  Patient Ambassadors speak one-on-one or to groups about the Good Health Clinic, answer questions and help sign up eligible applicants.
BIG KAHUNAS!
Our Annual Big Kahuna Contest and Beach Luau is our signature event and raises a large portion of our operating expenses!  Each year 4-6 motivated and community-minded individuals are invited to sign up for our competitive fundraising contest.   They all work hard, they all have fun, they all raise money…but only one can win the BIG KAHUNA AWARD!!!
2022- Yvette Doherty, Coldwell Banker Schmitt.
2021 – Dr. Derek Papp, Baptist Health Orthoepic Surgeon.
2019 – Tom Morrison, Doc on the Rock.
2018 – Jason Richards, Florida Keys Electric Coop.
2017 – Retz Reeves, Islamorada Investment Management
2016 – Nelson Sanchez, Monroe County Sheriff's Office
2015 – Rob Stober, Esq., Law Offices of Hershoff, Lupino and Yagel, LLP
2013 – Vicki Walker, Centennial Bank
2012 – Skip Bradeen, Blue Chip Charters
2011 – Rick Freeburg, Mariners Hospital
Annual Clinic Sponsors – 2022
 Good Health Clinic is founded on the belief that caring for our neighbors elevates our community as a whole, and that everyone deserves to be healthy. We sincerely thank all of our amazing sponsors for their commitment. If you would like to support us in our mission, download our sponsorship form.