October 14, 2023 | Dolphins Plus Bayside 
Authentic and wildly entertaining,
the Annual Luau for Health benefitting ☀️Good Health Clinic, is the Keys' longest-running and largest Luau! It's always a fun tropical night that also makes a difference in our community!
In 2022, a record-shattering $232,000 was raised by the
Kahuna Contest!
BE A CLINIC SPONSOR
Help in our mission to provide free and low-cost healthcare services to our uninsured community. Your Good Health Clinic annual sponsorship includes a certain number of Luau tickets based on your contribution level. Click below to learn more about our 2023 sponsorship levels. 
Sea un VOLUNTARIO
¿Le gustaría ser parte de las muchas manos que organizaron este evento divertido y significativo? ¡Aplique aquí para ser parte del equipo!
Sea un KAHUNA
KAHUNA: / kəˈho͞onə / sustantivo
Hawaiano para una persona sabia o importante.  A Keys Community Member who garners support for the Annual Luau for Health. Do you have what it takes to be crowned the BIG Kahuna?
Como ayuda
1/3 de sus vecinos de Keys no tienen seguro. Our Keys community is built on the fabric of locals that keep our tourist town thriving; part-time servers, fishermen, maintenance and hospitality workers that go without insurance. They rely on ☀️Good Health Clinic for their care. We rely on our Donors and community leaders like you, to keep our clinic doors open for them. 
We are NOT a community that leaves those in need behind.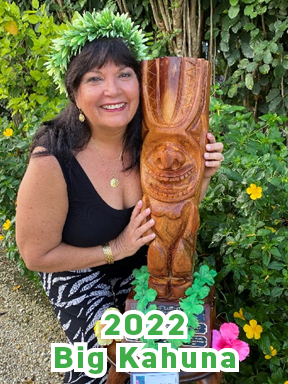 Congratulations Yvette Doherty!
We are proud to crown Yvette Doherty, real estate agent for Coldwell Banker Schmitt, the 2022 winner of our annual Big Kahuna challenge. Yvette worked hard and raised $53,456 — A new KAHUNA RECORD! 
Our gratitude to our kahunas, sponsors, hard-working staff, amazing volunteers, vendors, donations, and everyone who brought this Luau to life! A special thank you to Dolphins Plus, Inc. Bayside for the perfect venue and dolphin show. Wow!
Casey Watkins
Key Largo Starbucks Manager
"The most critical part of a healthy community is its access to nutrition and healthcare. I love The Good Health Clinic and their abilities to provide a great service to the uninsured in our community. This is why I'm running for The Big Kahuna."
My love for the Upper Keys started in childhood while visiting on weekends with my best friend's family to fish and play in the sun. A full-time resident of Islamorada and a managing partner at the Key Largo Starbucks, I employ and encourage many of the community's next generation of leaders. My heart is volunteering at community events, raising money for local charities, or stocking the shelves at the First Baptist Church of Islamorada's food pantry. I am also the "Voice" of our Coral Shores Hurricanes outdoor sports!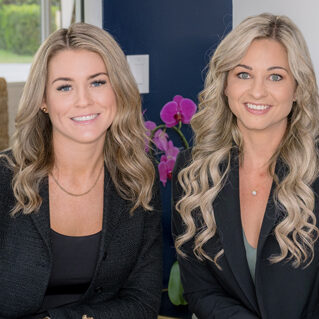 Emily Strain and Heather Pabotoy's
Florida Keys Realtors, Coldwell Banker Schmitt Real Estate Co.
""We are so honored to be nominated for the Big Kahuna, because I was once a patient at the Good Health Clinic and I couldn't think of a better way to say 'Thank you'!"
-Emily Strain
Emily Strain and Heather Pabotoy's childhood in the Florida Keys laid the foundation for their deep-rooted appreciation of the area and the unique lifestyle it offers. Their bond as friends grew stronger as they spent their youth engaging in various activities that the Keys has to offer. They would swim at the Quay, explore under the bridge to nowhere, fish, go shrimping, and enjoy the simple pleasures of camping in Heather's grandparents' backyard.
Emily, being the daughter of a boat captain, had a particularly special connection to the water. Her school bus often dropped her off at the docks after school, and Heather spent the summers on the beautiful Caribbean waters, both would spend countless days sailing and trolling the seas. These experiences fostered a passion within both Emily and Heather to help others discover the beauty of the Keys and make it their home, whether as a vacation property or a permanent residence.
Their determination to serve their clients and unwavering support for each other as a team propelled Emily and Heather to achieve Elite Agent status in the real estate industry. They recognize that their success is not achieved in isolation, but with the assistance of the resources provided by their broker,
Brian Schmitt, and their affiliation with Coldwell Banker Schmitt Real Estate Co.
As part of the Strain-Pabotoy Team, Emily and Heather leverage their extensive knowledge of the local area and their strong network of contacts to provide exceptional service to their clients. Their affiliation with Coldwell Banker Schmitt Real Estate Co. gives them access to a wide range of support,
including market insights, industry expertise, and cutting-edge technology, allowing them to stay ahead in the competitive real estate market.
The Strain-Pabotoy Team's pride in their work and their determination to exceed their clients' expectations sets them apart in the industry. They approach each transaction with the utmost professionalism and commitment, ensuring that their clients' needs and desires are understood and
met.
In addition to their real estate endeavors, both Emily and Heather are actively involved in giving back to their community. Emily serves as a board member of the Coldwell Banker Schmitt Charitable Foundation, while Heather dedicates her time as a board member of the Habitat for Humanity – Upper Keys chapter. Their involvement in these charitable foundations demonstrates their commitment to making a positive impact on the local community.
The Strain-Pabotoy Team not only excels in the real estate industry but also demonstrated their dedication to serving others and making a difference in the Florida Keys. Their journey from childhood friends to a formidable professional duo showcases their unwavering determination, strong work ethic, and genuine passion for the place they call home.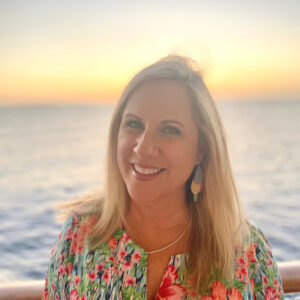 Kathy Calhoun
Dental Hygienist
"If anyone has material possessions and sees a brother or sister in need but has no pity on them, how can the love of God be in that person? …let us not love with words or speech but with actions and truth." John 3:17-18
Kathryn Calhoun is a Certified Registered Dental Hygienist who was introduced to the Good Health Clinic while working for Caring for Miami Project Smile, providing free dental care to the clinic's patients.
Kathryn received her degree in dental hygiene in 1986 and is passionate about public health. She began working as a volunteer with Project Smile in 2019 and currently works for them as needed. Recently, Kathryn has started working with Miami Southridge Senior High School as their dental hygienist. She provides free dental screenings to their students, thanks to their Community Partner School program.
Kathryn and her husband Dennis bought a home in Key Largo in 2020 and spend their free time in the beautiful Florida Keys. They love boating, fishing, snorkeling, kayaking, and paddle boarding. Kathryn combines her oral health knowledge with images captured in The Keys to create content for her Instagram account @thesaltyhygienist. She loves the staff at the Good Health Clinic and their hearts for serving the community.
Kathryn is thrilled to be nominated to run as a Kahuna!
Michael Rojewski
Florida Keys Realtor for Century 21 Circle
""I have accepted the Kahuna Challenge as there is nothing more vital than one's well-being and supporting our community. We are incredibly lucky to have the Good Health Clinic, an institution dedicated to ensuring it. I hold great affection for this community and feel immense joy and pride in contributing to this fundraising initiative.""
Michael Rojewski is a luxury real estate specialist in the Florida Keys. Currently, holding positions as a director on the Key Largo Chamber of Commerce and a director on the Florida Keys Association of REALTORS.
Michael grew up in Central NY and always had a dream of living in a place far away from the cold weather and snow. During college, Michael spent years working in aviation, which allowed him to travel the world, explore new destinations, immerse himself in different cultures, and experience diverse climates. When he first visited the Florida Keys, he instantly fell in love with this idyllic island paradise.
After his extensive global journeys, Michael finally discovered a place he wanted to call home. Having lived in the Florida Keys for some time now, He loves to share his enthusiasm with prospective homebuyers and sellers in the area. Working as a real estate professional, his aim is to assist them in finding the perfect home that suits their needs or selling their property for top dollar. The Florida Keys offer incredible diversity, with each Key having its unique charm.
Sam Steele
Recaudador de impuestos del condado de Monroe
"The only person we should be in competition with is the person we were yesterday. I am honored for the opportunity to help better our community by raising funds and awareness for Good Health Clinic!"
Sam Steele is the elected State-Constitution Tax Collector for Monroe County. He grew up in Miami, Florida, and is an alumnus of Florida State University. While attending college, he met his wife, Lauren, a sixth-generation Conch. They currently live in Key West with their three children: Carter (5), Audrey (3), and Jax (1). Sam has a passion for public service and is involved with various non-profit organizations throughout the Keys. Some of his community involvement includes receiving the 2023 Men of Valor Award from Samuel's House, Board of Director for United Way of Collier and the Keys, Board of Director/Treasurer for A Positive Step of Monroe County, Board of Director for Key Haven Park and Recreation, Inc., Rotary Club of Key West, active student mentor with Take Stock in Children, past Chair for the American Cancer Society Diamond Gala of the Keys, Special Olympics volunteer, Co-Founder of Caring for the Keys, a large-scale Hurricane Irma relief effort founded by Jessica Haim, and Leadership Monroe County Class XXVIII. In his free time, Sam loves to spend time on the boat with his family.
Sharon Detweiler
Director of Surgery for Mariners and Fishermen's Hospital
"In my profession, I frequently see the struggle the community members endure trying to obtain healthcare when insurance is too expensive. This is why I am happy to help raise funds to help provide healthcare to those individuals who cannot afford insurance."
Sharon Detweiler, R.N., has been a nurse for 29 years. Originally from the Philadelphia suburbs, Sharon and her husband moved to Key Largo in 2002 where they later welcomed a son. Currently the Director of Nursing for Surgical Services, she has worked for Baptist Health Fishermen's Community Hospital and Mariners Hospital for 19 years. Sharon loves the lifestyle and the people of the Florida Keys and is thrilled to be involved in the 11th Annual Big Kahuna Contest.