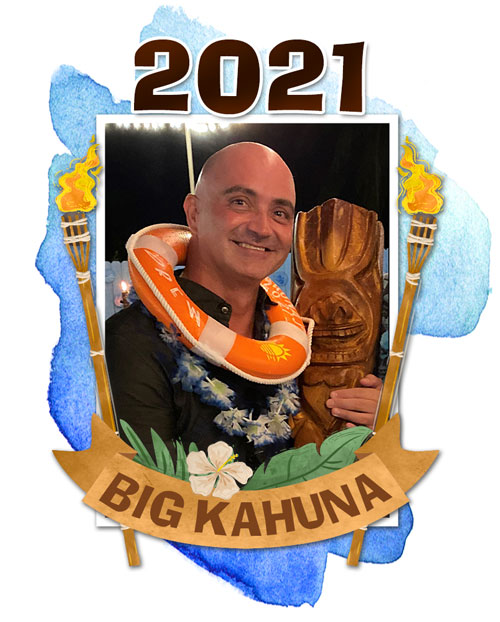 Congratulations Dr. Derek Papp!
It was our pleasure to crown Dr. Derek Papp from Mariners Hospital as the 2021 winner of our annual Big Kahuna challenge. Dr Papp raised $46,055 total! A new Kahuna record! 
Shout out to everyone that made the night so incredible; our kahunas, our sponsors, our hard working staff, our amazing volunteers, and of course all our vendors and donations to bring this Luau to life! And special thank you to Dolphins Plus, Inc. Bayside for the perfect venue!
Sobre nosotros
Clínica de buena salud
Good Health Clinic es la entidad colaborativa que trabaja con más de 100 proveedores médicos voluntarios en todo el sur de Florida. Los pacientes reciben atención primaria de primer nivel dentro de nuestra clínica y se benefician de la coordinación de la atención y el acceso a innumerables servicios médicamente necesarios donados por nuestros generosos socios. Entre nuestros servicios en la clínica y el apoyo de nuestra Red de Voluntarios, podemos brindarles a los necesitados una verdadera solución de atención médica.
Lo más destacado de Luau
Authentic and wildly entertaining, the Annual Luau for Health benefitting ☀️Good Health Clinic, is the Keys' longest-running and largest Luau! This is always a fun tropical night to remember – that also makes a difference in your community! Check back or follow us on Facebook and we'll keep you posted on when and where our 2022 Luau will be held.
Como ayuda
1/3 de sus vecinos de Keys no tienen seguro. Nuestra comunidad de Keys se basa en la estructura de los lugareños que mantienen próspera nuestra ciudad turística; servidores a tiempo parcial, pescadores, trabajadores de mantenimiento y hostelería que no tienen seguro. Dependen de ☀️Good Health Clinic para su atención. Dependemos de USTED, nuestros Donantes, para mantener abiertas las puertas de nuestra clínica. NO somos una comunidad que deja atrás a los necesitados
Sea un PATROCINADOR
Ayude en nuestra misión de brindar servicios de atención médica gratuitos y de bajo costo a nuestra comunidad sin seguro. Aprenda cómo usted o su empresa pueden convertirse en Patrocinadores. 
Sea un VOLUNTARIO
¿Le gustaría ser parte de las muchas manos que organizaron este evento divertido y significativo? ¡Aplique aquí para ser parte del equipo!
Sea un KAHUNA
KAHUNA: / kəˈho͞onə / sustantivo
Hawaiano para una persona sabia o importante.  A Keys Community Member who garners support for the Annual Luau for Health. Do you have what it takes to be crowned the BIG Kahuna?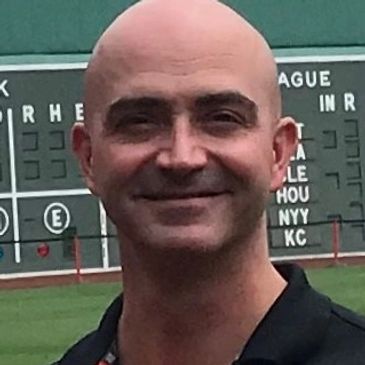 Dr. Derek Papp, MD
Cirujano ortopédico, Mariners Hospital
"The Good Health Clinic provides an important and amazing service to the Keys Community—they're easily some of my favorite and most thankful patients. It was an honor to be asked to help this year and Very easy to say yes!"
Dr. Derek Papp, MD
Cirujano ortopédico, Mariners Hospital
Derek Papp se mudó a Key Largo después de Irma e inmediatamente se enamoró de la comunidad aquí. Es un cirujano ortopédico que asistió a Johns Hopkins tanto para la escuela de medicina como para la residencia y completó su beca de medicina deportiva con sus socios actuales en Doctors Hospital en Coral Gables.
También trabaja como médico / consultor de equipo para los Orioles de Baltimore y pasa gran parte de su tiempo libre ayudando al equipo donde se le solicite, y viajó a Corea y México como médico de la MLB durante el Clásico Mundial de Béisbol. El Dr. Papp organizó recientemente una conferencia internacional para cirujanos ortopédicos en la Antártida.
Drew Grossman
Chief Executive Officer
"I am running for Big Kahuna, because, It's about the community with raising funds and awareness as part of giving back to a great place like Good Health Clinic that strives each day to provide primary and in-service care to those who truly need it."
Drew Grossman
Drew Grossman is Chief Executive Officer of Mariners Hospital in Tavernier, and Fishermen's Community Hospital in Marathon, both located in the Florida Keys, since February 2021. 
Grossman earned a Bachelor of Science from The Pennsylvania State University and a Master of Health Services Administration from The George Washington University, D.C. After completing his administrative residency at Parkway Medical Center in North Miami Beach, he joined Centinela Hospital Medical Center in Southern California, serving as Assistant Administrator. In 2002, he returned to Florida to assume leadership positions at Cleveland Clinic in Weston and Parkway Medical Center in North Miami Beach. He joined Broward Health as Chief Executive Officer of Broward Health Coral Springs and Salah Foundation Children's Hospital. Prior to joining Baptist Health South Florida, he was Chief Executive Officer at St. Mary's Medical Center in Blue Springs, Missouri. 
He looks forward to becoming active in the Upper Keys and Middle Keys community and organizations. In Florida, he was previously Chair of the Broward County March of Dimes and Vice Chair of the Coral Springs Economic Development Foundation. He was also a Board member of the South Florida Hospital and Healthcare Association.
Mr. Grossman and his wife, Melissa, have two sons.
Quote:
"I am running for Big Kahuna, because, It's about the community with raising funds and awareness as part of giving back to a great place like Good Health Clinic that strives each day to provide primary and in-service care to those who truly need it."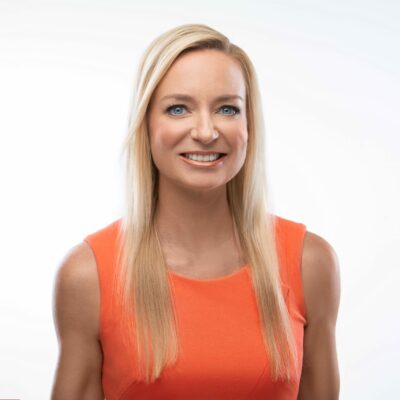 Honorable Holly Merrill Raschein
"As the premier provider of quality healthcare services to the uninsured or underinsured community in the Upper Keys I couldn't be prouder to support the Good Health Clinic as a contender in the Big Kahuna contest and look forward to supporting the Luau for Health.  Mahalo nui loa!"
Holly Raschein
Holly Raschein is a former member of the Florida House of Representatives, elected 2012-2020, to represent the 120th district, which includes Monroe County and Southern Miami-Dade County. Originally from Alaska, Holly came back to her roots and attended Florida State University, where she graduated with a degree in political science in 2003. She then moved to the Florida Keys, where she worked as a Legislative Aide for Representatives Ken Sorensen (R) and Ron Saunders (D).
During her tenure in the House, Holly served on several key committees, including chairing the Agriculture & Natural Resources Appropriations Subcommittee and the Rules Committee. While in office, Holly was involved in the National Conference of State Legislators where she co-chaired the Committee on Disaster Recovery. She was also the Florida Lead for the National Caucus of Environmental Legislators, the Florida Director for the National Foundation for Women Legislators, and a gubernatorial appointee on the Florida Defense Support Task Force.
In 2016 Holly joined the Baptist Health of South Florida team as the project coordinator for both Mariners Hospital and Fishermen's Community Hospital.
In addition, she assisted with the building of the new, state-of-the-art replacement facility that will provide life-saving healthcare services to the Middle and Lower Keys. In 2017, Holly received her Master's in Public Administration from Florida International University.
She joined First State Bank of the Florida Keys, Monroe County's only locally owned bank. Since December of 2020, she has also been the Government Relations Director for AshBritt. Additionally, Governor Ron DeSantis just appointed Holly to the Florida Housing Finance Corporation.
She is active in numerous organizations including Young Philanthropists of Baptist Health, Leadership Monroe County, the Monroe County Education Foundation, the Florida Council on Arts & Culture, the American Flood Coalition, and the Rotary Club of Key Largo.
Holly enjoys scuba diving, fishing, and ballet, and she resides in the Upper Keys with her son, Drake.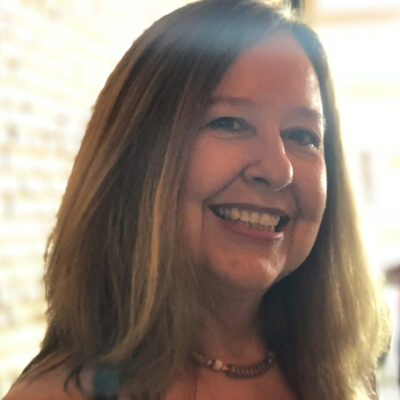 Suzi Youngberg
"I am proud to be competing for Big Kahuna and raising funds for the Good Health Clinic. The Good Health Clinic provides such a necessary role in supporting the health of our community and so many rely on their services. It's all about helping our neighbors. See you at the Luau!"
Suzi Youngberg
Suzi Youngberg is a twenty-four-year resident of the Florida Keys. For many of those years, she worked in corporate financial insurance, traveling often to visit clients across 3 states. When her husband, Scott, went through cancer treatment in 2014, she gave up traveling in order to spend time with him and become more a part of her community. Afterward, she began volunteering for the American Cancer Society, serving as Relay For Life Event Chair in 2016 and 2017, while working in radio as a Sales Executive and On-Air Personality. In 2018, she became the Florida Keys Development Manager for the American Cancer Society and spent three years organizing events, volunteers, and donors throughout the Florida Keys.
Suzi now assists the History of Diving Museum as the Community Outreach Specialist and represents Keys Life Magazine as a Sales Executive. She also serves as President of Upper Keys Business and Professional Women, Delegate to the Council of Presidents for the Florida Federation of Business and Professional Women, and sits on the Upper Keys Advisory Council for Community Foundation of the Florida Keys. In her spare time, she still volunteers for ACS plus other charities and community events and enjoys spending time with Scott and their cat SugarBear. 
Kristine Cox
General Manager of Playa Largo Resort & Spa
"Time is always of the essence for many, and even more these days. I wanted to take myself to new levels of life and assist in such a wonderful cause for the community with time, Good Health Clinic provides a critical outlet for so many neighbors that we share conversations and time with daily…  I am honored to run for the Big Kahuna in support of the community that the Good Health Clinic stands for and provides. Let's rise together and lift others around us up!"
Kristine Cox
General Manager of Playa Largo Resort & Spa,
Situated on the Florida Bay in Key Largo, Florida, Kristine Cox is the General Manager of the 14.5-acre property and oversees all aspects of the 178-room resort including day-to-day operations, staff development, financial planning, sales and revenue, and overall guest satisfaction.
Born and raised in the resort town of Myrtle Beach, South Carolina, Kristine has always been drawn to the hospitality field. 
Her experience and talents spans the industry having fulfilled roles from Catering Manager and Director of Catering to Front Office Manager, Rooms Division Manager and Director of Operations, and ultimately, General Manager by the time she was 30. Kristine was a true star of the Southern hospitality world, working as General Manager at the Hilton Head Marriott Resort and Spa, Director of Catering and Acting General Manager at Myrtle Beach Marriott Resort and General Manager at Hilton Fort Lauderdale Airport hotel before that, among other roles.
Kristine loves her and her husband's beautiful blended family of 4 children, a dog and cats as well as island life and giving back to the community. Currently on the board of the Key Largo Chamber of Commerce and residing in the Upper Keys.